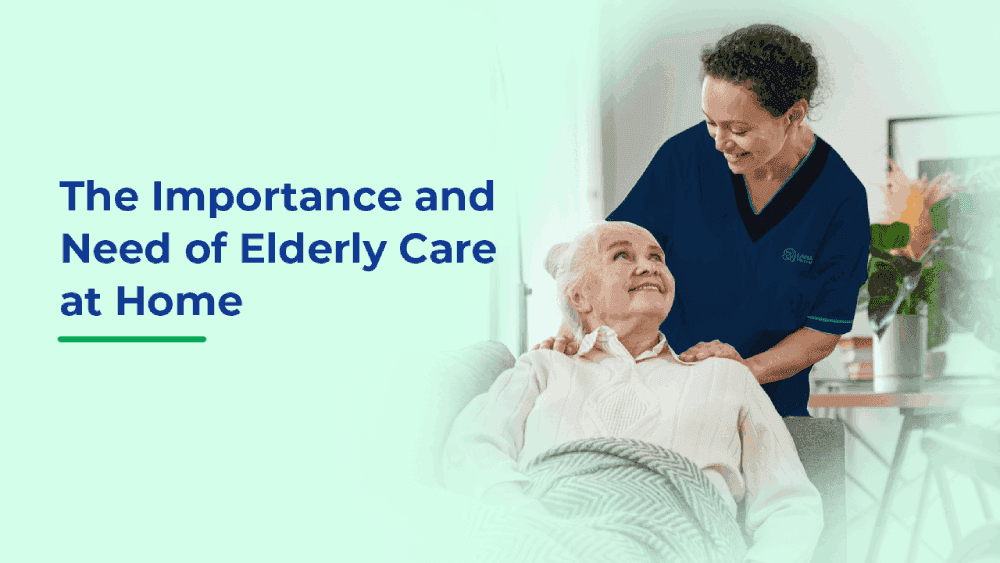 The Importance and Need of Elderly Care at Home
Aging is inevitable and is universal. We are living in a society with two extremes: one that never understands the value of elderly people and discards them with disrespect, and the other that cares about their older generation and values them properly with enough respect and care.
This is a paradoxical situation where we have two opposite extremes. But aging, as already mentioned, is unavoidable and elderly people need to be given proper elderly care. Thus, the importance of elderly care is something we all should research and understand.
Adult caregiving is a perplexing situation. Adult children are frequently placed in the situation of caring for an elderly parent as family members age. Frequently, the parent relocates to the home of the adult child or a senior group home or facility.
Elderly care involves assisting them in their daily activities, taking them to doctors for medical consultations, supporting them mentally, and much more. So, if you have any concerns about your new role as a caregiver for the elderly, this actionable guide will help you make sense of it.
The importance of elderly care
In general, someone over the age of 65 is considered an elderly person who, depending on his or her health status, may require devoted care. However, it is difficult to apply a rigid definition because people age at various rates physiologically. Frailty, rather than age, has a greater influence on their risk of requiring care and support.
Eldercare, also known as elderly care or senior care, is a type of specialized care that is tailored to the needs and requirements of senior citizens at various phases of their lives. As a result, the term "elderly care" is fairly broad, encompassing anything from assisted living and nursing care to adult daycare, home care, and even hospice care.
ALSO READ: Physiotherapy Exercises For Lower Back Pain
Before looking into home elderly care, let us look at the various challenges faced while providing elderly care.
Challenges faced in elderly care
Assisting with day-to-day tasks
Most elderly people want to look after themselves and do not want to rely on others for assistance. However, when people approach the age of 70 and beyond, especially in certain circumstances where people are ordinarily capable but have health conditions that make it impossible for them to stay independent, this becomes more challenging.
At some point, elderly parents will want assistance with daily duties such as housekeeping, financial management, shopping, food preparation, and so on. It may have an influence on their personal lives in many circumstances, especially if they live away from their parents.
Dealing with medical problems
As previously said, growing older might harm one's health. Improve They may acquire a variety of health problems and chronic illnesses, leaving them weak and defenseless. Regular monitoring, medicine, and, in rare cases, emergency intervention might be required.
Working adults with elderly parents at home will find it difficult to be there for them all the time. As a result, children must guarantee that their parents have access to a competent healthcare support system.
Living standards
Taking care of elderly parents requires ensuring a high quality of life. The elderly deserve more than just medical care; they also require emotional support, a social life, and everything else that goes into living a happy life.
On the other hand, children who live away from home may find it difficult to do so. Because they are gone from home or preoccupied with their obligations, children may have minimal interaction with their parents, leaving the elderly with no one to talk to. Long-term loneliness can lead to melancholy and anxiety in seniors.
Assuring their security
Elderly individuals are more vulnerable, whether in terms of health or financial stability, and hence require support at all times. Because it is impossible to be with them all of the time and most parents do not want to be put in a retirement home, children must guarantee that their elderly parents are cared for at home in a safe and secure atmosphere. Lack of communication, on the other hand, and other life responsibilities can occasionally lead to issues and mismanagement.
Financial instability
Unless they have taken up part-time employment, elderly people above the age of 60 are usually retired. The elderly lose their permanent source of income when they retire and must rely on their savings or pension, as well as the help of their children.
Some elderly people lose their ability to handle their finances as a result of degenerative sickness, making them vulnerable to abuse. As a result, youngsters must take care of their financial needs and assist in the management of their assets. Working children caring for aging parents, on the other hand, may find it difficult to successfully manage their parents' finances due to a lack of time.
ALSO READ: Chest Physiotherapy – Experts Advice
How to take care of elderly people – tips to follow
Due to the obvious obstacles that may arise, caring for elderly parents can be daunting at times. Here are some tips for taking care of elderly people and recommendations to assist you in tackling such problems and caring for your elderly parents while avoiding emotional and financial strain.
Understand their well-being
Weekly or daily phone contact isn't enough while caring for aging parents at home. Seniors suffering from dementia or Alzheimer's disease require extra, if not complete, attention. It is necessary to conduct physical surveillance to determine how well seniors who are living alone are doing.
Improving your interactions with them will make caring less onerous and will surely improve the bond between you and your parents. The greatest strategies to deal with these issues are creativity, adaptation, patience, and compassion.
Create a secure environment in your home
Seniors who live alone are at risk of slipping, falling, and injuring themselves. While some structural changes may be required, the bulk of the actions required to make a senior's house safe and accessible may be completed with minimum effort and a few pairs of helping hands.
Grab bars near the toilet and in showers/tubs are some of the must-have adjustments to consider for stability, sitting, and standing. It is preferable to install railings on both sides of all stairwells. It is necessary to arrange for the use of a wheelchair, a portable hospital bed, or any other medical gear and equipment.
Think about hiring caregivers
Even after reviewing the procedures outlined above, caring for an aging parent might seem like a daunting task. You may rely on a wide range of aging care solutions and helpful services.
Palliative care at home: specialized care will be provided at all times by a dedicated team of highly experienced doctors and nurses.
Physiotherapy services at home: If you need daily physiotherapy and need any equipment for your daily life, consider hiring physiotherapists.
Assisted living communities: If your parent is unable to live independently or needs round-the-clock assistance, assisted living and other senior housing choices may be the best option.
Geriatricians (geriatric physicians): Geriatricians specialize in caring for the elderly and have more expertise in treating people with various chronic health issues, dementia, and other disorders that particularly affect elders.
Locate a reliable caregiving service in your area
Taking care of an aging parent at home isn't always straightforward. Whether you have a hectic schedule and an active family, or you have more time to devote to your parents, you'll almost certainly want assistance and resources.
Personal care, full-service in-home care, overnight care for the elderly, skincare, foot care, oral care, dental care, equipment for elderly care, senior home care services, care management services, and more are all available. The caregiving agency must be committed to offering a dependable support network whenever required.
Elderly care is now a full-time job and people are resorting to elderly care at home if they are not available 24/7 with the older folks and also to seek help from experts. Lana Life Care provides the best elderly care in Dubai.
ALSO READ: What is Gastrostomy Tube Feeding?
Benefits of home health care services for elderly
There are several benefits of home health care services which include medication management, supported daily living, medical assistance, and much more. Other major benefits are:
Aids in the healing process and lowers the risk of infection
Patients who get home nursing care are better protected from infections than those who receive treatment in hospitals. Patients may be more susceptible to recurrence and infection after surgery and critical care. Because the patient is less exposed to infections, in-home nursing care can help the patient recover better and quicker.
It's less expensive than hospital care
A patient may require critical care, which may necessitate performing particular operations numerous times each day. In-hospital treatment is typically far more expensive, and it is not cost-effective to maintain a patient in a hospital for an extended period.
In-home caregiving allows patients to get hospital-quality medical treatment in the comfort of their own homes. When compared to in-hospital treatment, it is extremely cost-effective.
A sense of familiarity
Elderly care services at home can make the aged feel more comfortable, and the services can be customized according to individual needs. Social interactions can also increase and have companionship caregiving, which might have a positive impact on their mental health as well.
ALSO READ: How To Choose The Right Home Health Care Service?
Take care of elderly parents at home with Lana Life Care, Dubai
Elderly home care services and elderly care facilities are provided by experts and experienced nurses from Lana Life Care, Dubai. Elders with chronic diseases, such as dementia, Alzheimer's, Parkinson's, arthritis, or life after an injury or stroke, require round-the-clock assistance.
Lana Life Care's licensed nurses will help you manage pressure sores, discomfort, fall hazards, ventilators, and tube feeding, as well as a variety of other aged care services that will be tailored to your specific needs. Lana Life Care conducts a thorough assessment of your needs and assists you in providing excellent care for your loved ones.
For elderly care in Dubai, senior care, and senior home care, Lana Life Care provides the highest quality home care services in Dubai.
Do you require elderly care at home in Dubai?
Registered nurses/caregivers for nursing care are available at Lana Life Care, Dubai. They may assist in fostering a sense of security, safety, and care.
Our nurses and caregivers are highly skilled in offering specialized services to people in need of delicate therapies, as well as extending care to the entire family through assistance, training, and education. Elderly home care services in Dubai with Lana Life Care can create a happy old age for your loved ones.
Our home nursing care services include:
24-hour care, help, and nursing
Medical assistance
Bedridden care
Physical aid and support are provided for all daily tasks
A DHA-certified nurse has been designated for each patient
Providing medical equipment