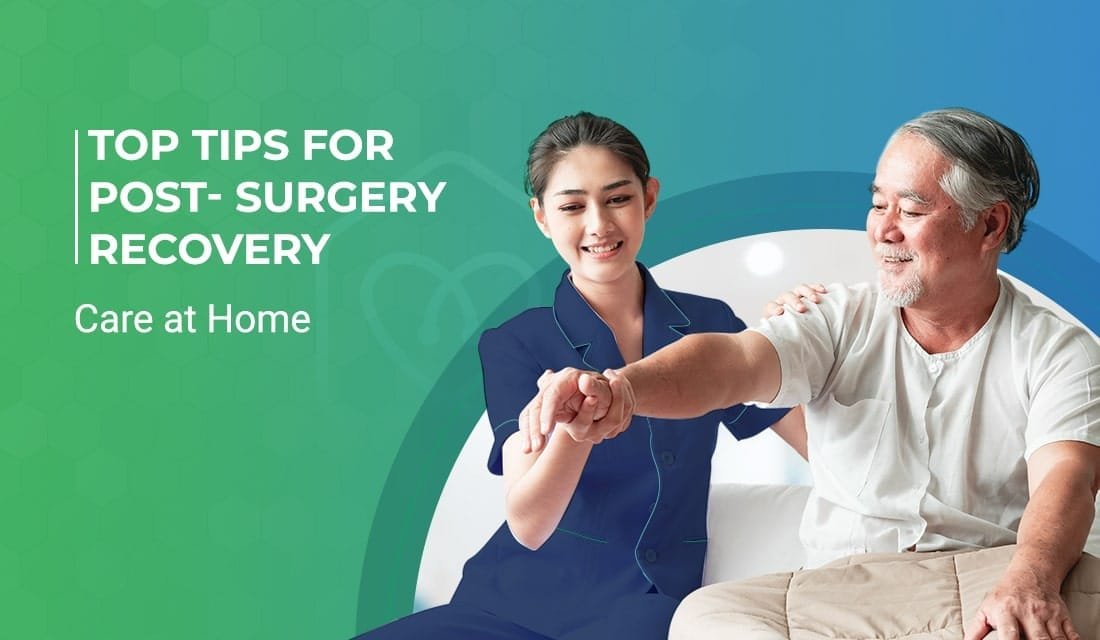 Post Surgery Care Tips: How to Recover Comfortably at Home?
Undoubtedly, surgery is a challenging process for patients, their loved ones, and their caregivers. In general, we focus more on getting ready for the procedure and frequently forget to make plans for post-surgery recovery. If plans are made ahead of time, caregivers can avoid the problems that come up when the patient goes home.
It is important to keep in mind that post-surgical rehabilitation is a consistent process that needs ongoing support and supervision from caregivers. Some health problems that come with getting older and diseases that people already have, like arthritis, diabetes, and high blood pressure, could slow the healing process even more, especially for the elderly.
What Is Postoperative Care?
The period following surgical treatment or operation is referred to as the "postoperative period." Postoperative care is another name for it. Post-operative care and recovery after surgery are influenced by the type of surgery one is having, their medical history, and any underlying illnesses one may have.
After surgery, the patient will need pain medication, general care, and attention to wounds and surgical sites (including cleaning, dressing, and removing sutures as necessary). Surgery is a frequent medical procedure that is necessary in many cases. Often, it is the sole method for healing or treating ailments. The removal or repair of diseased tissues or organs, the rerouting of blood vessels, and the cell extraction and testing of biopsies are a few frequent surgical procedures. All of this necessitates adequate and extensive care for a faster recovery.
Older patients often need more extensive postoperative care than younger patients. Older bodies have slower healing times and are more susceptible to infections and other issues.
Thus, these nine post-surgery recovery tips and guidelines should help you in the meantime and ensure that your loved ones recover fast and correctly.
ALSO READ: Importance of Elderly Care at Home
9 Tips for a Smooth Recovery After Surgery
Follow Your Healthcare Provider's Advice
Without hearing this advice, probably several times, you won't get very far. In some cases, patients ignore professional advice and the majority of post-operative instructions. Some of the recommendations, such as being prohibited from bathing, swimming, or lifting anything heavier than 10 pounds for the first several days post-op, will help a patient in the long run. So, it is always advisable to adhere to what your doctor says.
Create a To-do List
Making a thorough list of everything that needs to be done and creating a rigid routine for when the patient returns home from the hospital is the first step in providing care. Talk to your doctor and make a list of all the crucial recommendations for medicine, nutrition, sleep schedules, and other supportive procedures, since they are all crucial for a faster recovery. After that, create a daily schedule that takes your patient's habits, requirements, and expert advice into consideration.
Make the House Ready
This is a process that needs to be scheduled according to the type of surgery. Some tips to be followed under this surgery-aftercare tip include:
If the patient is recovering from difficult knee, hip, or leg surgery that limits their mobility, rearranging furniture to give them more room to walk around could be considered.
Until the patient is well enough to use the stairs, a plan should be created for a well-managed room on the ground level if the patient's bedroom is upstairs.
Anti-slip floor polish may be applied if the flooring is made of highly polished marble or granite to stop slips and falls in dry areas.
Extra supports, like grab bars, can be used in the bathrooms and at turning points where people usually move.
Solar-powered portable LED bulbs can be used in the bathroom or as night lights to help reduce nighttime mishaps. Especially for people who have had eye surgery, they give off a soft light that doesn't startle the eyes.
Prevent Infections
To ensure a successful surgery, infection control is essential. Before touching your incision, you should wash your hands. This is one of the easiest and most important things you can do while you're healing after surgery.
Infections at the surgical site are uncommon and often appear 30 days after surgery. It is worthwhile to ask your doctor what you can do to protect your skin from infection.
ALSO READ: Pros and Cons of Feeding Tubes for the Elderly
Maintain Follow-up Appointments
The majority of patients miss a lot of their follow-up appointments. It may seem like a waste of time and money to make an appointment if you're feeling well and your wound is healing quickly. But it is not always a good choice.
Your doctor will ask you how you're doing and whether your wound is healing properly; they may also check for other problems you might not be aware of, such as infections. Don't skip your follow-up appointments, as your medication can also be changed.
Eat a Balanced Diet

After surgery, a patient could have nausea and appetite loss. But it's crucial to concentrate on introducing nourishing meals into your treatment plan.
Stay Hydrated
Increase your water intake first. The average adult needs between nine and thirteen glasses of water each day. The greatest tip for staying hydrated, according to experts, is straightforward: drink when you're thirsty.
Water consumption can also be improved by eating fruits and vegetables.
Consume Healthy Meals
Some of the vitamins and nutrients that can aid in the healing process include protein, vitamin C, and vitamin B12. Other inclusions
Proteins like beans or tofu might give you greater energy if you eat a plant-based diet. Excellent sources of animal protein are chicken and eggs.
Vitamin C-rich foods include kale, cantaloupe, and citrus fruit. You can also pick cauliflower, papaya, or broccoli.
Consume fish, low-fat yoghurts, or cheese to get additional B12. B12 is also found in abundance in meat and fortified morning cereal.
Talk to your doctor or a nutritionist for more information about how to add these foods to your daily diet.
Constant Supervision
Caretakers sometimes forget how important it is to keep an eye on the patient's blood pressure, pulse rate, sleep pattern, and appetite to look for any changes that could be concerning and need medical help right away.
For accurate and easy blood pressure monitoring at home, you need a blood pressure monitor that is automated.
When a patient has a fever, a non-contact thermometer is a good way to check their body temperature without disturbing them.
A pulse oximeter is a device that measures oxygen saturation and pulse rate to help patients who have had major surgery under general anaesthesia and avoid severe post-operative stress.
The patient must be within reach of the caregivers at all times. If the patient has trouble speaking and can't tell the caregiver when they need something, they should use a different way to reach them, like alarm systems, call bells, etc.
Emotional Assistance
Above all, regular emotional support from family and caregivers may be the assurance that helps post-surgical recovery the most. A loved one's constant presence and support are just as important as medicine or other treatments to help someone get better faster.
The patients should be encouraged to gradually begin completing some basic daily tasks by themselves, including eating, using the restroom, bathing, dressing, and walking. In this situation, support for daily life may be useful.
The patient's happiness should be monitored by the caregivers. For their improved health, having heartfelt interactions with them and thinking positively about them are essential. If your doctor advises it, you might spend time in gardens or parks with your loved ones so as to relax your body and mind.
Keep Home Care Services in Mind
Home health care aides work with patients who are recovering from surgery. Their main goal is to either help the patient get better and become independent or, if the disease is long-term, to keep the patient's quality of life as high as possible and help them with daily tasks.
A skilled caregiver can assist you in making the transition from the hospital to your home. They may assist with wound care and related medical help. Your family may feel secure knowing that everything is being taken care of with home care help.
ALSO READ: Home Nursing vs Hospital Care
Mistakes to Avoid After Surgery That Slow Your Recovery
Disregarding a doctor's recommendations
Staying in bed
Avoid not taking your medications as directed
Don't consume enough food or liquids
Resuming your job too soon
Driving before you're ready
Not doing the breathing exercises
Post-Surgery Care Guidelines to Follow for Post-Op Recovery
Include Movement in Your Daily Routine
It's still crucial to keep moving even if you experience soreness throughout your entire body. You may need post-surgical physiotherapy sessions at home depending on the kind of surgery you had, or you might only be told to include low-impact activity in your daily routine.
You don't have to complete a marathon, so relax. All it takes to increase blood flow and hasten the healing process is to walk.
Mild Exercise Upon Medical Advice Is a Good Choice
Mild exercise also aids in the prevention of lung conditions like pneumonia. Start by taking a few laps around your house, and then walk outside for a few more. Every few days, increase your level of exercise. Stop walking if you start to feel weak or dizzy, and find a seat. Ask a loved one to accompany you on your stroll if you believe you might get sick.
For Patients Who Have Blood Clots
Some people may experience problems with blood clots. If this describes you, consider recovering from surgery by frequently wearing anti-embolism stockings. Many people who have had surgery find that these compression socks help with swelling and blood flow. If you need temporary help walking, a front-wheel walker, crutches, or a cane may be the best choice.
Take Enough Rest After Surgery
Importance of rest after the surgery is a vital step to be followed. Resting after surgery is critical to a safe recovery. Exercising too soon after a procedure can result in immediate or long-term physical complications.
You produce more white blood cells when sleeping, which combat viruses and germs. When you are recovering from an accident or a major surgery, your body is working hard to recuperate. If you don't get enough sleep, your immune system may become weakened, and you may struggle to battle common infections.
ALSO READ: Tips For Communication With Dementia Patients
Final Reflections
As part of the complete rehabilitation process, caring for a patient who is returning home after surgery is crucial. As a result, it has to be practised with the utmost tolerance and compassion. We hope that using this checklist will enable you to make the best preparations for taking care of your loved one.
Get Your Adept Post-operative Care at Home from Lana Life Care, Dubai
Lana Life Care provides comprehensive caregiving services at home after surgery and is ready to help you anytime. Lana Life Care provides the best post-surgical care in the comfort of your own home. Our post-operative caregivers will evaluate each patient's condition, ask the appropriate questions, and know what has to be done to ensure a speedy and pain-free recovery. Contact us for more information.
Frequently Asked Questions
What do you say to someone after surgery?
When caring for a loved one who has undergone surgery, it is critical to keep them cognitively active while they heal. Watch a movie with them, read or listen to an audiobook with them, or ask them to share a tale from their history. Positive diversions will do more than just keep them engaged; they will also aid in their recovery.
How can I recover quickly after surgery?
The tips to be followed include: 
Give your body the necessary healing energy.
Get out of bed.
Remember to stay hydrated.
Allow yourself to rest.
Take proper wound care.
Follow the instructions.
How can I heal faster after abdominal surgery?
The tips for healing faster after abdominal surgery include the following:
Recovery after abdominal surgery requires movement.
Make sure you have plenty of pillows.
Avoid too much strenuous activity.
Take a little exercise.
What are the things to do while recovering from surgery?
 To pass the time, you'll need some sheer entertainment.
Learn about new music.
Watch the films you've always wanted to watch.
Play traditional games with your guests.
Sign up for a streaming service.
Work on crossword puzzles.
Get lost in an excellent book.
Listen to audiobooks.
Learn a few card tricks.
What is a post-op?
The final phase, known as the postoperative phase, is the time after surgery.